Nevcon Accounting Services has been pleased over the years to provide handy resources including downloadable tax guides, forms, schedules and reports. These resources are all official documents as provided by the Canada Revenue Agency. We are in the process of rebuilding those collections of resource links and aim to have them available again in the near future.
In the mean time, if you are looking for a tax form for a specific year, please feel free to contact us for assistance.
Canada Revenue Agency advises you to use the Employer's Guide – Taxable Benefits and Charges (download it here or click on the book graphic) if you are an employer and you provide benefits or allowances to your employees, including individuals who hold an office, for items such as: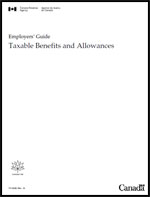 automobiles or other motor vehicles;
board and lodging;
gifts and awards;
group term life insurance policies;
interest-free or low-interest loans;
meals;
security options;
tool reimbursement or allowance;
transit passes; or
tuition fees.
For more information and additional forms and guides, go to:
Canada Revenue Agency
Agence du revenu du Canada
Forms and publications
Formulaires et publications
Note: The 2019 income tax and benefit information for individuals will be able to view, download and order online as of January 21, 2020.
In English, organized by province and territory:
General Income Tax and Benefit Package
En français, par la province ou le territoire:
Trousse générale d'impôt et de prestations